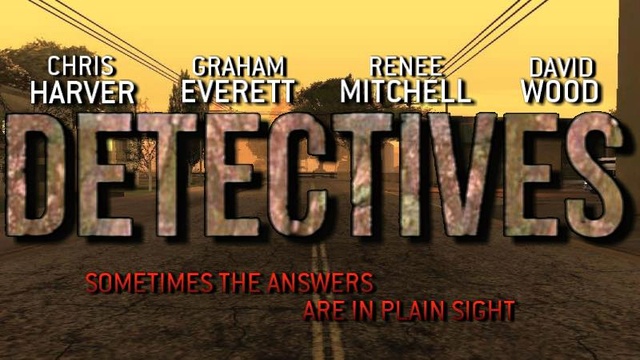 THE COMPLETE FIRST SEASON!Episode 1:Episode 2:Episode 3:Episode 4:Episode 5:Episode 6:CRITICAL RECEPTION:
The first season received wide acclaim from practically every viewer who watched it. Most of the praise went towards the writing, including that of the story, characters and the development of both. Kirkbride was told within hours of the initial premier episode that he had managed to create something very different to other GTA SA Machinimas before it. The Atmosphere of the location and the story were hailed terrifically. Viewers were enthralled by the strange Twin Peaks-style mystery and one viewer (Legendary GTA SA Machinimaker Ezequeildavid) commented that even he felt uneasy watching and that he felt the killer could strike at any moment.

Most, especially one main protagonist Graham Everett, were all acclaimed characters. Viewers praised his mysterious personality and loved the stark contrast between his character and his on screen partner, Chris Harver, the relationship which later became a backbone of the story. Whilst Chris Harver's character was incredibly praised towards the end of the story as his character grew and changed, his initial response was more critical to that of Everett's. Viewers were irritated by the characters naivety and criticised his weak personality commenting that a homicide detective should not act the way he did. However, as noted, the character became hailed as being just as good a character as Everett as the story came to a close. The developing relationship between Harver and on screen girlfriend Renee Mitchell was also praised as a highlight of the story.

A large amount of praise went into the finale episode of the season, which saw a running time of over an hour, the longest video ever made by the series' creator. Praise was showered on the closure of the story and the characters (whom will not be featured in the series again). The eventually revealed villain of the entire story was critically acclaimed, and was also highly praised as feeling like a very dangerous, unhinged and potent threat.

As the first season closed out, one particular viewer hailed it as 'The best written GTA SA Machinima ever made'.
ENJOY AND DON'T FORGET TO SUBSCRIBE AND COMMENT WITH FEEDBACK!
THANKS!
Admin




Posts

: 15


Join date

: 2016-07-16



---
Permissions in this forum:
You
cannot
reply to topics in this forum